Invitation to the University for the Study of Human Goodness
Our Soul Centered Education for a Lifetime Program is a yearlong residential program designed to help individuals expand their capacities to be of service and to become Self-Actualized through Service to others. The program is a training ground for World Servers. A world server helps any organization or endeavor to maximize its potential by their example. Tuition is free to accepted students and room and board is provided.
If you are interested in service and would like to gain the tools to be able to live a life of service, no matter what you do, please contact the University for the Study of Human Goodness.

Beyond Self-Actualization
Stephen Covey related that before

the distinguished humanistic psychologist Abraham Maslow

died he revised his Hierarchy of Human Needs with the realization that once one is self-actualized then the natural outpouring of that love and wisdom is focused on service to others. Thus the final stage in the Hierarchy of Needs is not Self-Actualization but Service to Humanity.

(Info provided by Joanna White of the University for the Study of Human Goodness.)

* * * * *

Disclaimer: In the spirit of sharing, Human Wisdom gladly presents to the public information sent from various parts of the world, which seems to be open-minding and possibly useful, but has no means to verify the background and accuracy of such information. Consequently, everyone must exercise judgment before purchasing or becoming involved in any program.

* * * * *

Top #
Good News vs.
Bad News
Human Wisdom Synergic Media is a complementary alternative, where mostly good, positive, exciting, stimulating and inspiring thoughts, gestures, initiatives and actions are being shared with the entire world.
Everything that people of all walks of life from everywhere in the world are dreaming for, trying, striving for, succeeding or temporary failing to reach, in their wonderful undertaking to build a better life and a more just society for all.
Thoughts and actions that are worth sharing with the rest of the world, for they can inspire others do the same or generate even better solutions that will be spread out for the benefit of all.
Everything originating from people's souls and minds, and is not meant only to "make money" but first of all to generate good - from the smallest generous gesture to more ample constructive initiatives that can have a wider impact in our lives.
Every single useful thing that someone may teach and others may need to learn to make their lives more abundant, fulfilling and enjoyable.
By sharing all these things among us we expect at least two wonders to happen:
First, we will all gradually become more aware of our unlimited potential for thinking and acting positively and our availability for generosity and gratefulness, and
Second, this interactive sharing of inspiring thoughts and actions will gradually have a synergic effect on each one of us, which will amplify our power and effectiveness in reaching that wisdom and vision that will irreversibly change our lives for better.
This is what HW Synergic Media is all about.
How Synergic Media works?
Very simple. The HW Synergic Media is people's media - we all feed it and we all benefit from it. So, if something nice is happening in your family, community, village, town, city, state, province, country or continent, please send in a note - and that will become news in our synergic media.
Obviously, Human Wisdom cannot and shall not verify the accuracy of all these news, but we have no doubt that everyone will understand the real meaning of this endeavor, and consequently, very little "abuse" or "exaggeration" will happen, if any at all. Moreover, considering the overall benefit, this is a little risk worth taking.
So...
Feel welcome to
SHARE YOUR NEWS
with the rest of the world and come and discover bigger and smaller wonderful and inspiring things happening every day across the globe.
Forerunners of a Human Era
Laureates of the Human Wisdom Award
There is a great and constantly growing number of people and organizations worldwide that are striving incessantly in various fields of activity, both online and offline, in an admirable effort to contribute to a better world: a better life for all of us, in a truly human society. We call them 'Forerunners of a Human Era'.
As a humble token of appreciation and gratitude for their admirable efforts, their artworks, projects, initiatives are being awarded with one of the seven categories of the Human Wisdom Award.
Some of these endeavors will impress you with their enlightening vision, others will touch you with their high spirit of altruism or astonish you by their determination in a constructive initiative; some will amaze you with their creative force of innovation and discovery or allow you to benefit from their generous sharing spirit, while others will fill you with joyfulness or enchant your soul with their humanity inspired beauty.
Some of these initiatives have been around for years and made already a mark in their field. Others are in various phases of development and started more recently to reach significant accomplishments, while many others have been just launched, but their inner value, dedication and energy have the potential to make a difference.
Either acting on the worldwide scene or in a certain region of the world, they are touching and inspirational. Enjoy them all, admire their efforts of their authors and be aware that our very hope for a better future of the human civilization has been always relying on people like them.
Who knows, you may consider joining their quest...
LAUREATES of the
HUMAN WISDOM AWARD
Feel welcome to explore the gallery of outstanding productions that received the Human Wisdom Award in each category by clicking on the respective award graphic. Each category also features its own Site of the Week.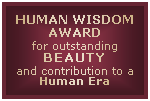 Site of the week:
Michele Lanci-Altomare
http://www.michelelancialtomare.com
"Designer, photographer and author Michele Lanci-Altomare's online portfolio and resume including a small cross section of her award-winning graphic and book design, infrared, filtered and natural photography and her book authorship."




Book designs by Michele Lanci-Altomare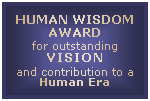 Site of the week:
StarChild Science Lessons
http://www.starchildscience.org
"When you decide to homeschool your own, you don't know it but you have just decided to gift yourself in the process. I can't think of another opportunity in life that demands this degree of giving. There is no other gift more valuable than giving your time, energy and a love for learning to your own child."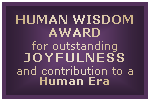 Site of the week:
Positive News Network
http://www.positivenews.net/
"The vision of the Positive News Network is to create, produce and promote an alternative news service that will focus on positive people, stories and solutions. Goals - To simply focus and celebrate on all that is good. Educate, inform, inspire and connect you with the latest positive news, people, solutions, and events in your community and around the world."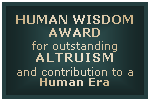 Site of the week:
Romanian Association of Parents with Cancer and Leukemia Ill Children
http://www.asociatiapavel.home.ro
P.A.V.E.L. Association came into life in August 1995, when a group of parents with children ill of cancer decided to organize themselves for helping the Romanian children ill of cancer and their parents.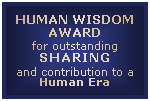 Site of the week:
Delcamp.net
http://www.delcamp.net/
"Free classical guitar sheet music. Delcamp.net offers you access to a library of free sheet music containing some of the most beautiful pieces of music from the legacy of the classical guitar. This site respects the copyrights of authors and editor. The site currently boasts 143 sets of classical guitar sheet music. The sheet music is made available in .PDF format."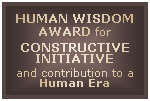 Site of the week:
PRWeb - The Free Wire Service
http://www.prweb.com/
"PR Web™ has offered free online press release distribution services since August 1997. We are the largest Newswire catering to small and medium sized companies and organizations and one of the largest online press release newswires. Our editors review thousands of press releases each week for distribution through the PR Web™ Newswire services. Our mission is to ensure that every organization has access to the media, regardless of size. We accomplish this through our free, member supported, online press release distribution service. We insist that the quality of this service rival that of similar fee-based services, delivering quality press releases to members of the press and to our subscribers-at-large through the efficient use of technology."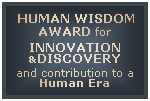 Site of the week:
New Economics Foundation
http://www.neweconomics.org/gen/
"nef is an independent think and do tank that inspires and demonstrates real economic well-being. We aim to improve quality of life by promoting innovative solutions that challenge mainstream thinking on economic, environment and social issues. We work in partnership and put people and the planet first. We are unique in combining rigorous analysis and policy debate with practical solutions on the ground, often run and designed with the help of local people. We also create new ways of measuring progress towards increased well-being and environmental sustainability."